Collection:

Rubber Mounted Points
Rubber Mounted Points are made of grinding sand and synthetic Rubber. They are used for finishing, polishing and deburring all kinds of ferrous and non-ferrous metals, for manufacturing and repairing molds, stampings and tools. They are of excellent flexible, wear resistance and excellent polishing ability.
Most of the application includes: removing sharp edges on metal sheets. Light Deburring to remove visible and microscopic burrs without impacting surrounding areas. Cleaning to remove undesirable surface deposits. Polishing and Smoothing to improve performance, appearance, cleanliness, and to reduce the dangers of surface contamination.
There are 3 types of rubber mounted points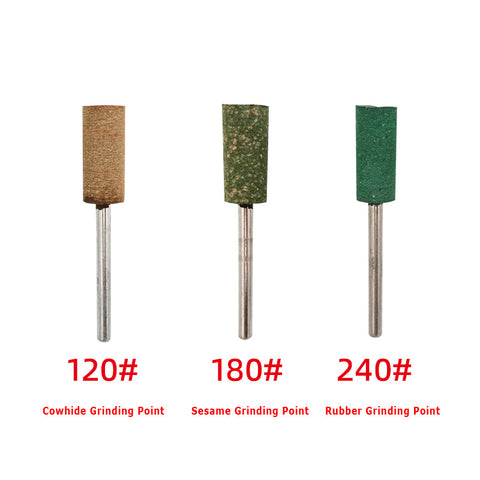 Cowhide mounted piont (#120 grit) ;Sesame mounted piont(#180 grit);Rubber mounted point(#240 grit).
The rubber mounted point is more softer,  elastic, smoother than sesame mounted  point. the head can be worn and polished. It is suitable for fine grinding and polishing.

The cowhide mounted  point is harder and rougher than rubber mounted point. It is relatively wear-resistant, and the grinding effect is rougher than that of the rubber grinding head. The grinding head can be worn and polished. It is suitable for moderate polishing.
The sesame mounted  point is rougher and more wear-resistant than rubber mounted  point . The grinding effect is rougher than cowhide grinding head. The grinding head can be worn and polished.It is suitable for rough polishing.
NOTICE
1:The rotationl speed should be higher than the general requirements as much as possible, and the line speed should not be lower than 10~20m/s.
2:During the grinding process, Do not hit the workpiece. The Mounted Points should be lightly attached to the surface of the workpiece. Especially when using small size and sharp grinding heads, should hold the grinding machine firmly with both hands.  Do not use too much force,it will cause the grinding head to burst and the shank to break.
3:It will be better for using.if the grinding head are trimmed on a diamond file before use.
4:In the process of use, if found that the iron filings on the surface of grinding head block air holes, The grinding mounted points should be trimmed with a diamond file and then to use
There are 2 types of shank diameter
3mm(1/8" ) or 6mm (1/4") shank
Engineers normally use points on a 3mm  or 6mm spindle in a small hobby tool, air tool or micromotor system. These points are made of a firm rubber which stands up to a good amount of work. It can be reshaped against a file.
Specifications of Rubber Mounted Points
Shank 3mm Cylinder Shaped Mounted Point (1/8" Mounted Point)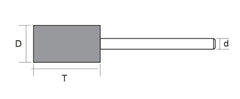 Item
Diameter(D)
Length(T)
 Shank 

Diameter(d)

A410
4mm
10mm
3mm
A512
5mm
12mm

3mm

A614
6mm
14mm

3mm

A818
8mm
18mm

3mm

A1018
10mm
18mm

3mm

A1218
12mm
18mm

3mm
Shank 3mm Bellet Shaped Mounted Point (1/8" Mounted Point)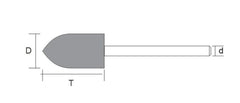 Item
Diameter(D)
Length(T)
 Shank 

Diameter(d)

K410
4mm
10mm
3mm
K512
5mm
12mm

3mm

K614
6mm
14mm

3mm

K818
8mm
18mm

3mm

K1018
10mm
18mm

3mm

K1218
12mm
18mm

3mm
Shank 3mm Spherical Shaped Mounted Point (1/8" Mounted Point)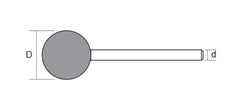 Item
Diameter(D)
 Shank 

Diameter(d)

S6
6mm

3mm

S8
8mm

3mm

S10
10mm

3mm

S12
12mm

3mm
Shank 6mm Cylinder Shaped Mounted Point (1/4" Mounted Point)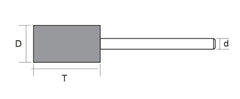 Item
Diameter(D)
Length(T)
 Shank 

Diameter(d)

A1625

16mm
25mm

6mm

A2025
20mm
25mm

6mm

A2525
25mm
25mm

6mm
Shank 6mm Bellet Shaped Mounted Point (1/4" Mounted Point)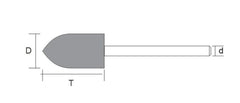 Item
Diameter(D)
Length(T)
 Shank 

Diameter(d)

K1625

16mm
25mm

6mm

K2025
20mm
25mm

6mm

K2525
25mm
25mm

6mm
 Shank 6mm Spherical Shaped Mounted Point (1/4" Mounted Point)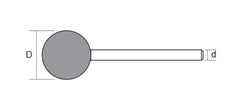 Item
Diameter(D)
 Shank 

Diameter(d)

S15
15mm

6mm

S19
19mm

6mm

S24
24mm

6mm