Collection:

Felt Bobs Polishing Wheel Sticks
Our Felt Bob made from the highest quality wool, made of a medium/hard felt with industrial quality, which gives them a long life. They are designed to be used with all our compounds to cut and polish and get in all the small places where wheels can't get. Ideal to use with reciprocators or rotary tools. Felt bobs are mainly for polihsing  compounds to produce a high surface finish on all metal and molds although you can also use them on glass.
The feb bobs have 3/32ʺ shank, 1/8ʺ shank and 1/4ʺshank.and have different types: cylindrical ,Cones,balls, trapeze and also bespoke shapes are all available.Different shapes of felt bobs can suit more applications and polish more precise.The dimaeter size 
ranges from 1/8ʺ up to 3ʺ and available in soft, medium, hard and rock hard densities.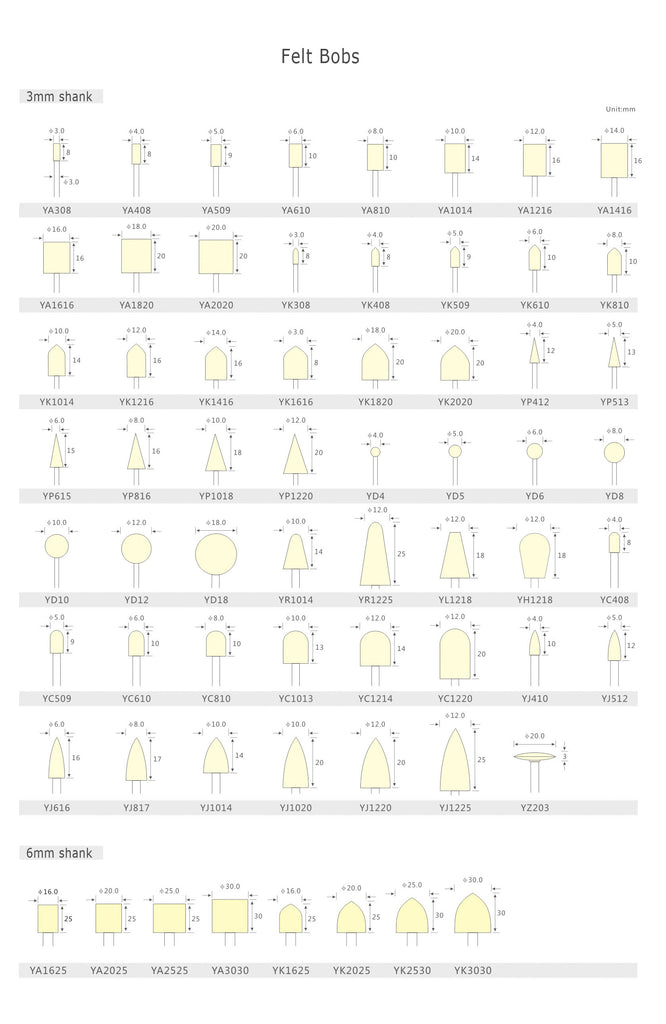 What do you use mounted felt bobs for?
Felt bobs are mainly for polishing metal although you can also use them on glass.

These bobs are for use in many industries including:
Mould tool polishing: –mold tools and dies used for plastic injection require a very high finish.You will find that felt is mostly for lapping and polishing with diamond compound. 

Polishing medical implants –our felts are very high quality,under totally controlled manufactuing and therefore suitable for robotic use. 

Polishing precision engineered components –we supply aerospace,automotive,oil and gas,defence and many more engineering in dustries.our felt bobs is for use manywhere you require a polished finish. 

Polishing precious metals in the Jewellery industry –Working on gold and silver,platinum,or palladium.Jewellers usually require smaller felt bobs with fine compounds 

What to use your Felt Bob with?
You can use ourFelt bobs in any rotary tool –such as a micromotor,pendant drill,flexible shaft machine or simple drill.Check recommended speeds for polishing 
Felt polishing wheel are used for polishing with compound – either rouge for precious metals or diamond compound or Lea compound for other general polishing. Hardened felts are used for a more aggressive cut, soft felt is more flexible. Medium Density is the most popular.The standard felt polishing wheel sizes range from 3" to 18". And the thickness is from 1/2" to 2". The complete specifications can suit more applications and accomplish different difficulty polishing tasks. 

According to the edge type, the felt polishing wheel can be divided into square edge and knife edge felt polishing wheel.

Felt polishing wheels have various other types which can be added extra accessories including velcro backs, plastic backs and vulcanized fiber boards. The various accessories can make it easy to fit more machines and complete more polishing tasks.
Mounted Felt Sticks can be used for cutting or polishing compounds, including diamond compounds.
Our mounted felt sticks for lapping on 3mm or 1/8" spindles.they are are used for accurate polishing with reciprocators or air driven Lappers
Mounted Felt Lapping sticks are very popular in for Mould tool polishing. Polishing tool steel which has to be polished but keeping the tool very flat. Reciprocating – which is moving back and forth like a file action, is perfect action for polishing flat surfaces.
When polishing Felt is very popular with compound for creating a mirror finish.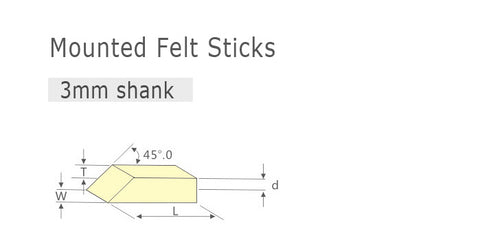 | | | | |
| --- | --- | --- | --- |
| W | T | L |  d(shank) |
| 6mm | 6mm | 45mm | 3mm |
| 8mm | 8mm | 45mm | 3mm |
| 10mm | 10mm | 45mm | 3mm |
| 12mm | 12mm | 45mm | 3mm |
Customers can ask for specially made products to suit their requirements.we offer low volume, low cost, traceable, fast delivery and high quality products. We can mount felt down to 3mm/6mm diameter and in all different shapes.Please get in touch if have particular requirements you wish to discuss. 
Safety Issue:
- Always practice safely when using power tools.
- Please wear eye protection, masks and gloves.
- Please Keep children away from power tools.
- Never use the felt bobs with loose shank. Shank attached the felt bobs and wheels must be very secure.