Collection:

Diamond Mounted Points

Diamond Mounted Points are made from a single piece of steel and are hardened for maximum rigidity to best meet your application need.It has a wide variety of applications on various workpiece, machines, markets, and materials. It is used under less pressure, aggressive stock removal, or light blending including stainless steel. It also used for jig and precision grinding of small holes in carbides , ceramics, sapphire and many of tough, super alloys that are being machined.

Are also useful for application on tough, high carbon, high chrome steels, etc.

BMS-30: Shank: Ø3.0mm / Length: 45mm

BHS-30: Shank: Ø2.34mm / Length: 45mm

30-Piece Set contains one of each style
Note:There is not Ø2.34mm shank with *.
Resin bond diamond mounted points
Resin bond diamond mounted point is an abrasive tool used for fast stock removal which lasts longer for about four times compared to conventional aluminum oxide mounted points. This makes it a very efficient tool as its increases productivity and clearly cleans more parts in less time. This mounted point is mainly used for machining tungsten carbide cutting tools, optical glass, gem, semi-conductor materials, non-ferrous materials, ceramic, magnetic materials, silicon, glass, quartz, thermal spraying alloy, and non-metallic material grinding.
This mounted point has various sizes with cylinder shape
Dimensions
Model No

Head Diameter (D)

Head Thickness (T)

 

Shank Diameter (d)

Total Length (L)

1
4mm
15mm
3mm
45mm
2
6mm

15mm

3mm
45mm
3

8mm

15mm

3mm

45mm

4

10mm

15mm

3mm

45mm

5
12mm

15mm

3mm

45mm

6
10mm
15mm
6mm

45mm

7
12mm

15mm

6mm

45mm
 Here is a popular size of resin bond diamond mounted point .If need specialized shapes and sizes can be done.
Internal mounted points
They are ideal for dressing, sculpturing, internal grinding, and precision grinding. There are main 3 types:diamond internal mounted points, CBN internal mounted points,Resinoid Diamond internal mounted points.
Diamond internal mounted points
They are with high-quality material (diamond alloy) and used in the internal and precision grinding of different materials, making small holes in ceramics, carbide, superalloys, glass, sapphire, and any tough nonmetal materials.
The mounted points of these grinding tools helps bind the materials with a binding agent. In addition, the tools are often installed in machines for grinding or polishing.
The applications of diamond internal mounted points 
-Precision grinding
-Cutting tools grinding
-Jig grinding
-Cutting and machining cement.
-High precision grinding for glasses frame
-Artwork Industry for stone carving, jade carving, and ceramic artwork
-Gemstone processing industry for the production of precious metal parts and super finished dental equipment.
CBN internal mounted points
They are ideal for the internal grinding of cast irons, tool & die steels, high-speed steels, and hardened steels. The mounted points can be used for injection nozzles, bearing races, compressors, and steering pumps.
The applications of CBN internal mounted points 
-Mechanical key parts industries (for mechanical parts, mold parts, etc.).
-Automotive industries (for the rounded corner of oil hole for the crankshaft, cylindrical processing, etc.).
-Electrical engineering fields (for burring and superfinishing small parts)
Specifications of Diamond & CBN Internal Mounted Points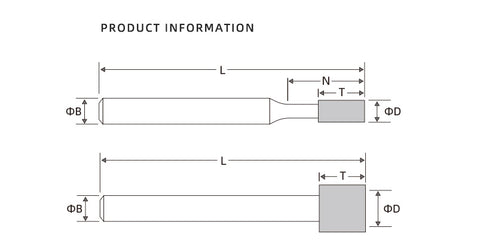 Size(mm) Shank 3mm
| | | | | |
| --- | --- | --- | --- | --- |
| D | T | L | B | Grits |
| 1 | 5 | 45 | 3 | 150#/400# |
| 1.5 | 5 | 45 | 3 | 150#/400# |
| 2 | 5 | 45 | 3 | 1150#/400# |
| 2.5 | 5 | 45 | 3 | 150#/400# |
| 3 | 5 | 45 | 3 | 150#/400# |
| 3.5 | 5 | 45 | 3 | 150#/400# |
| 4 | 5 | 45 | 3 | 150#/400# |
| 5 | 5 | 45 | 3 | 150#/400# |
| 6 | 5 | 45 | 3 | 150#/400# |
Size (mm) Shank 6mm

| | | | | |
| --- | --- | --- | --- | --- |
| D | T | L | B | Grits |
| 3 | 10 | 80 | 6 | 100#/150#/400# |
| 3.5 | 10 | 80 | 6 | 100#/150#/400# |
| 4 | 10 | 80 | 6 | 100#/150#/400# |
| 5 | 10 | 80 | 6 | 100#/150#/400# |
| 6 | 10 | 80 | 6 | 100#/150#/400# |
| 7 | 10 | 80 | 6 | 100#/150#/400# |
| 8 | 10 | 80 | 6 | 100#/150#/400# |
| 9 | 10 | 80 | 6 | 100#/150#/400# |
| 10 | 10 | 80 | 6 | 100#/150#/400# |
| 11 | 10 | 80 | 6 | 100#/150#/400# |
| 12 | 10 | 80 | 6 | 100#/150#/400# |